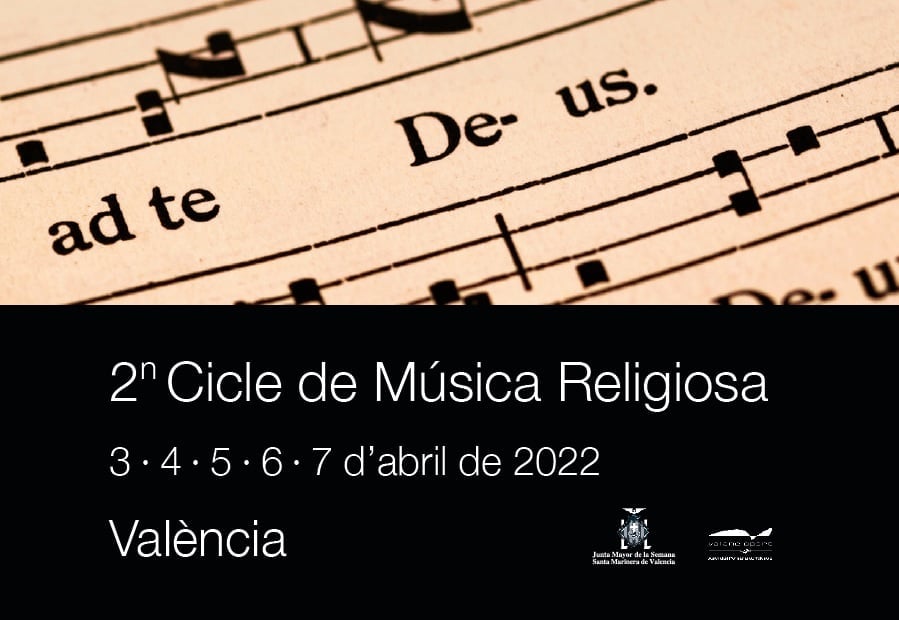 On the night of Thursday April 7 ended the Second Edition of the Cycle of Religious Music organized by the Junta Mayor de la Semana Santa Marinera de Valencia and that began on Sunday 3 in the Royal Parish of the Santos Juanes that was small to accommodate the more than two hundred people who wanted to witness live the Cantata Mare Dolorosa by Pedro Viso Roger.
Maestro Isidro Coll was in charge of conducting the Symphonic Band of the Ateneo Musical del Puerto in a performance performed together with the Orfeón Universitario de València, the Choir of the Casino Musical de Godella, the Coro de Càmara de València, the Pequeños Cantores de València, the soprano Jenny Castro, the tenor Pascual Andreu and the baritone Omar Lara.
The rest of the concerts of the program of this II Cycle of Religious Music in which the Port Authority has collaborated took place in the four parishes of the Maritime area.
On Monday, April 4, the Church Cristo Redentor-San Rafael hosted the performance of the group Alenza Trio formed by Estíbaliz Ruiz, mezzo-soprano, Laura Gómez on the cello and Renata Casero on the piano. The audience gave a standing ovation for a performance of a high lyrical level.
On Tuesday the protagonism was for the Cor Jove Plèiades, which filled the Church of Santa Maria del Mar del Grao in a concert where the variety of the program and the quality of the voices of the young components of this choir was very applauded by an audience that could delight with an encore offered by the Choir directed by Guillem Ferrando.
The parish of Nuestra Señora de los Ángeles hosted another splendid performance, on this occasion, in a program of Sacred Music interpreted by the Cor de Dones "A Cau d'Orella", which was also highly praised by those attending the concert.
The Second Cycle of Religious Music concluded on Thursday, April 7 with the concert offered by the Chamber Orchestra of Valencia in the Church of Our Lady of the Rosary.
Satisfaction for the breadth and variety of the repertoire offered in a cycle that has exceeded in attendance to the first edition held in September when the Covid pandemic still forced greater restrictions than those in force at the current juncture.